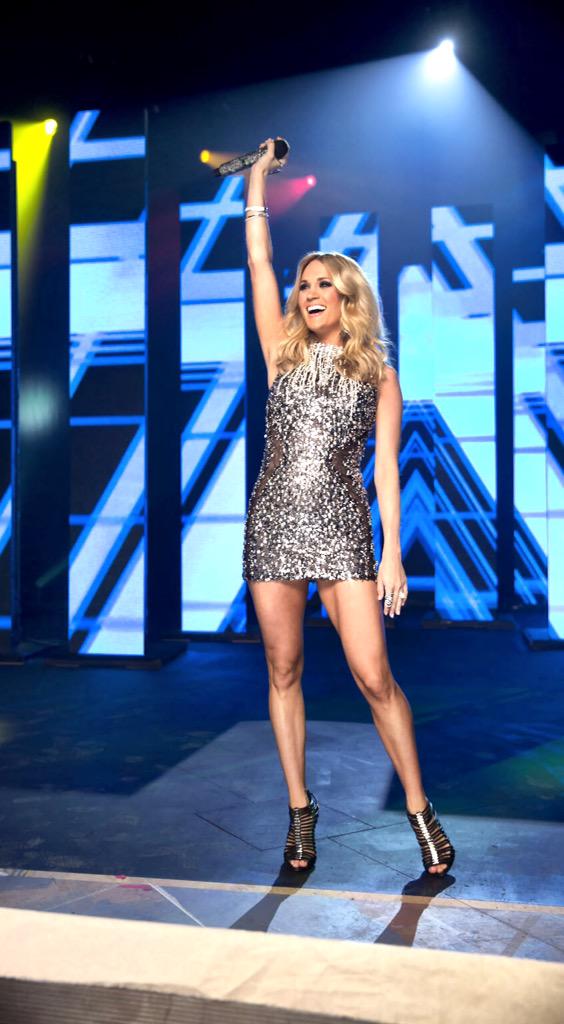 For the third year in a row, Carrie Underwood will be the voice of the NFL's Sunday Night Football. The program tweeted a photo on June 22 showing Underwood recording the new opening, the iconic "Waiting All Day for Sunday Night," looking fantastic in a silver glam mini-dress.
The star has recently re-entered the ring after giving birth to her son, Isaiah, and recovering from the C-section delivery. She made her performance debut at the CMT Awards during CMA Fest in Nashville, singing her latest single, "Little Toy Guns" from her Greatest Hits album. Underwood hadn't missed a beat, performing flawlessly and looking stunning in her black gown.
Since then she's been busy opening for the Rolling Stones with Brad Paisley and promoting her new line of athletic wear, Calia by Carrie, one product of which she says can even double as a diaper bag! Underwood is slated to perform at the Grand Ole Opry July 24 and 25.
Expect new music from the singer "soon," she says — but don't expect the same ol' Carrie Underwood. "There's definitely a different sound that's coming together," the star admits, adding, "I want everything to have its own space and look different, sound different, feel different."
Read More: Carrie Underwood Back for Sunday Night Football | http://tasteofcountry.com/carrie-underwood-sunday-night-football-2015/?trackback=tsmclip