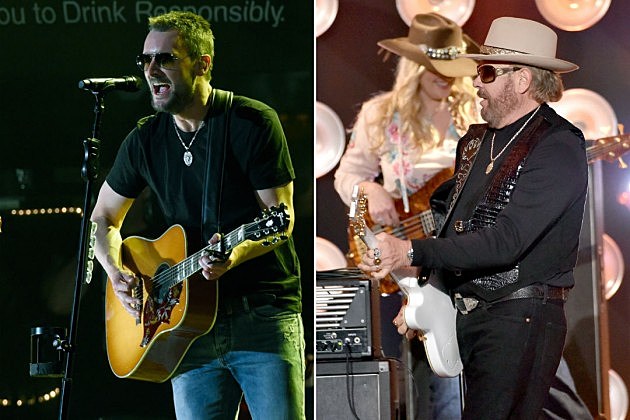 The first two performers for the 2015 CMA Awards have been announced — and the Country Music Association is telling fans to be in front of their TVs and ready to watch, because these two acts will be putting on a can't-miss opening number.
Eric Church and Hank Williams Jr. will be kicking off the 2015 CMA Awards together, performing "Are You Ready for the Country," which will be released as Williams Jr.'s first song on Nash Icon.
"If you don't see the first 15 minutes of the CMA Awards live, you will be grasping for straws at the proverbial watercooler the next morning," says Sarah Trahern, CMA chief executive officer, in a press release. "It is that good, and it is just the beginning of a great night of entertainment."
"Are You Ready for the Country" was written and first recorded by Neil Young, and released on his 1972 album, Harvest. Waylon Jennings later covered the song and released it as a single in 1976; it became a Top 10 hit for Jennings.
"[The song] is the perfect narrative for the night," adds CMA Awards Executive Producer Robert Deaton. "It sets up musically everything that is going to happen for the rest of the show."
Church is nominated six times at the 2015 CMA Awards, including for the night's highest honor, Entertainer of the Year. It is his first nod in that category. A complete list of nominees is available here.
The 2015 CMA Awards are scheduled to air live from Nashville on Nov. 4 at 8PM ET on ABC. For the eighth year, Brad Paisley and Carrie Underwood have been named as the hosts.